Announcements
FREE COMMUNITY DINNERS
Thank you to all who prepared/attended our Free Community Dinner on Thursday, March 22nd. Our next Free Community Dinner will be held Thursday, April 26th from 5-7 pm at the Community Center. Bring a friend!
EASTER PRAYER VIGIL SIGN-UP
PLEASE SIGN UP ON THE BULLETIN BOARD INSIDE THE FRONT ENTRANCE OF THE CHURCH FOR OUR 24-HOUR PRAYER VIGIL FROM 5:00 PM THIS THURSDAY (MARCH 29TH) TO 5:00 PM FRIDAY (MARCH 30TH). ONLY A FEW SPOTS LEFT!
Weekly Events
3/26 EASTER LILY ORDERS DUE
3/27 Lenten Bible Study @ 6:30 pm
3/29 PRAYER VIGIL BEGINS @ 5:00 PM
3/30 GOOD FRIDAY
PRAYER VIGIL ENDS @ 5:00 PM
GOOD FRIDAY SERVICE @ 7 PM @ MIDDLE RIVER FRIENDS CHURCH
4/1 EASTER
Sunrise Service @ 7:00 pm @ Hartford Presbyterian with breakfast following
Choir @ 9:00 am
Fellowship @ 9:15 am
WORSHIP @ 10:00 AM
Monthly Events
We will be hosting a free community dinner  5pm-7pm every 4th Thursday of every month at the community building 35 Vine street Carlisle IA 50047, we welcome everyone !!!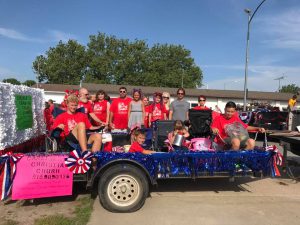 Annual Events
Scout Sunday
Carlisle Christian church hosted scout troop 133, leaders ,and families on scout Sunday , Scout Sunday is the first Sunday in February. The scouts presented the American and Christian flags followed by the pledge of allegiance to each, the scout oath, and scout laws. the scout leader expressed their gratitude for our sponsoring troop 133 and helping them purchase a new utility trailer and tents. he told about their camping trips and other projects of the year. each of the six attending members in turn told what projects he was working on in order to earn the corresponding badges. following worship service the scouts , leaders, and families joined the congregation for a luncheon . the Carlisle Christian church has since been given a framed charter certificate from boy scouts of America for sponsoring troop 133 since 1950.
Easter Celebration
Palm Sunday was 4/09/2017. On Thursday, April 13, we held our annual 24 hour prayer vigil. Someone was at the church praying at all times. On Good Friday, the Carlisle Christian Church and the United Methodist Church joined together at the Methodist church to spread the word of Jesus's passing. On Sunday, April 16, Easter arrived and the church hosted a sunrise service with the Hartford church at 7 a.m. with breakfast to follow. Regular service was at 10 a.m.
Choir Party – The choir takes a break for the summer. It holds it annual pot luck dinner in the spring. Good food, laughter, and fellowship. Choir starts back up in the fall. Please come see us any Sunday morning.
3rd Wednesday in June – ICE CREAM SOCIAL
July 4th- Boys Scouts Duck Pond at the Park sponsored by the Carlisle Christian Church. Parade Float.
Special Events